Track and Maintain Performance for a High-Performing Workforce
Evolve HCM's Cannabis Performance Management Solution allows businesses to easily track and monitor employee performance and is an essential part of our HCM suite. With Cannabis Performance Software, employers can make sure they know who their top performers are, and know they have the right employees in the right place.
Stop relying on periodic, backward-looking performance assessments that do little to drive engagement and productivity. To nurture and develop top talent, you need a flexible, data-driven performance management approach that enables you to continuously assess, coach, and recognize employees for their achievements.
To see how Evolve HCM is helping countless cannabis businesses in Colorado and across the country track employee performance, contact us today.
Benefits of This Cannabis Performance Management Solution Include...



Engaging
Employee Experience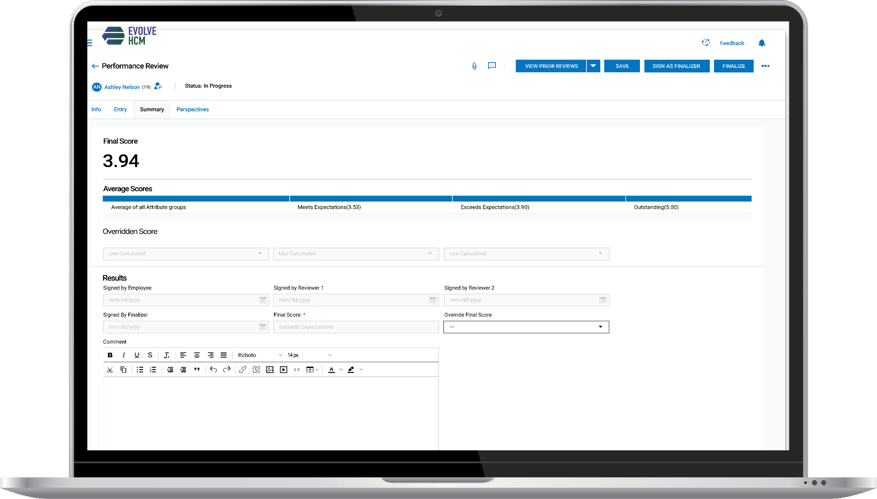 Boost Performance and Set Clear, Measurable Goals
Evolve Performance Management helps eliminate complex, paper-based forms; streamline the performance review process; and support development of both salaried and hourly employees.
The solution makes it easy to create, assign, and complete assessments based on defined criteria and automate the review cycle to reflect established processes. Alerts and reminders keep form submission and approvals on track for more timely review completion.
Highlight Employee Performance With These Solution Highlights
With our performance management software, managers can:
Align their organization by defining cascading goals and tracking performance at the corporate, group, and individual levels
Increase engagement and retention by enabling managers to continuously monitor employee goals and deliver ongoing feedback
Identify and develop top talent with succession planning tools that help you build and maintain talent pools
Save time and streamline processes with online review forms and automated workflows that support a paperless HR environment
Link compensation to performance with a Merit Matrix that establishes guidelines for awarding pay based on performance rating and pay grade segment