Simple HR for Easy Cannabis HR Management
Evolve HCM's Cannabis HR is core to our HCM cannabis software suite. With HR, employers can effortlessly integrate our other solutions such as:
Recruiting, Hiring, and Onboarding
Employee Benefits
Payroll & Compensation
Performance Management
And Much More
With an HR solution built for the cannabis industry, employers can store and track employee information in one paperless system, making all of those painless processes simpler, easier, and faster. Employers will be able to focus on more important aspects of their cannabis business and keep a competitive edge in the space.
To see how Evolve HCM is helping countless cannabis businesses in Colorado and across the country streamline HR and cannabis employee management, contact us today.
Cannabis HR Solution Benefits Include...

Employee & Manager Self Service Tools

Recordkeeping & Document Storage

Asset & Workforce Management

Licenses & Certification Management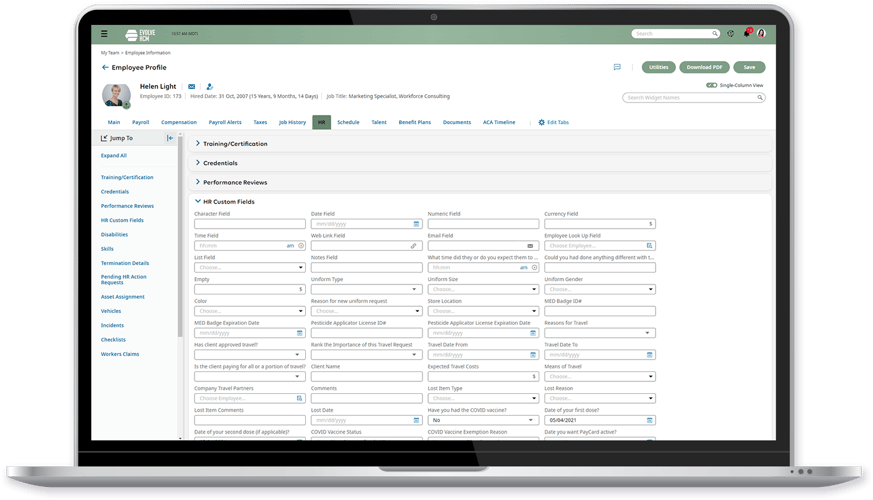 Employee and Manager Self-Service for Your Cannabis Workforce
With cannabis HR from Evolve HCM, employers can:
View Direct/Indirect Reporting Employees

View Organizational Charts

Access Reporting Dashboards

Create Reports

Facilitate Approvals

Process New Hires (I-9 Verifications)
Initiate or Approve Promotions

Initiate or Approve Reclassifications

Initiate or Approve Transfers

Request or Approve Pay Changes

Request or Approve Pay Corrections

And Much More!
While cannabis HR supplies employers and managers with countless self-service tools, it also allows employees to:
View Pay Statements

Access W-2's

Manage Employee Addresses

Request Time-off

Manage Direct Deposit Accounts

Enroll In & Manage Benefits

And Much More!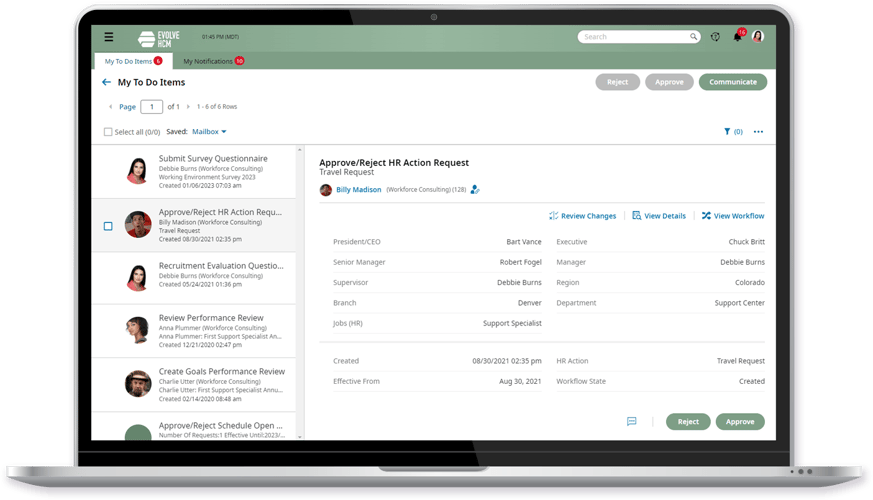 Cannabis HR Recordkeeping and Document Storage
Our cannabis HR solution will maintain a complete history of all transactions and changes, for all active and non-active status employees and contractors, while also maintaining all data (current and historical) which is also accessible via the Evolve analytics tools.
With cloud-based cannabis HR, employers can automatically facilitate the upload and storage of:
All Relevant Documents

Scanned Images

Policy Acknowledgments (with e-signatures)

Historical Versions Company Policies & Forms
Retain employee documents and images are retained within the employee record. Security is role-based ensuring that all retained records are protected from unauthorized access.
Asset and Workforce Management for the Cannabis Industry
Ensure simple and easy cannabis workforce management with HR from Evolve HCM with the ability to facilitate the allocation, tracking, and return of all company assets provided to employees. To learn more about what makes Evolve HCM a leader in cannabis workforce management, contact us today.
Licenses and Certification Management
Using cannabis HR from Evolve HCM, employers can ensure all critical licenses, certifications, badges, permits, and cards are safely stored and recorded via the Document Storage & Retention functionally.
With all license and certification information accessible from the employee record, employers can enable the tracking of expirations dates, as well as renewal reminders to ensure ongoing compliance.