Make Compensation Planning Simple While Providing Meaningful Rewards, Raises, and Incentives
Evolve Compensation Management automates and streamlines the entire compensation management process — from defining programs and guidelines to budgeting and modeling to routing proposals for approval.
With Evolve Compensation Management, you get:
Robust decision-making tools at your fingertips
Better visibility into all phases of the compensation planning process.
Reduced administrative burdens
Improved corporate governance
More equitable distribution of rewards
Greater control over your compensation spend
To see how Evolve HCM is helping countless cannabis businesses in Colorado and across the country streamline cannabis payroll and compensation processes, or other areas of talent management for their workforces, contact us

today.
Benefits of This Cannabis Compensation Management Solution Include...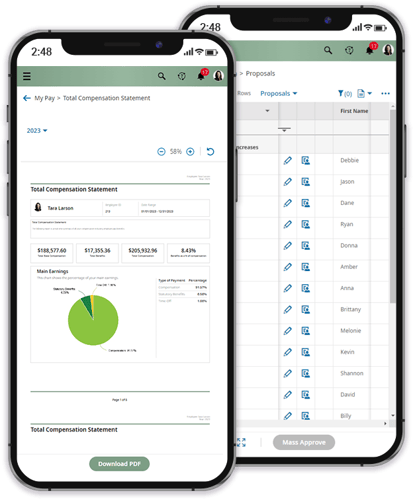 Automate Processes with Greater Cannabis Insights
Our cannabis compensation management solution will allow you to easily create and assign impactful compensation planning worksheets and programs to managers and approvers through better visibility into comprehensive workforce data, and employee performance trends. All while leveraging flexible workflows to automate notifications, reminders, approvals, and more to keep compensation planning moving.
Ready to Dive Deeper into Our Compensation Management Solution?
Improved Governance
Through Better Cost Control
Reduce the risk of budget overspend and ensure compensation decisions align with your guidelines by leveraging flexible merit matrices, eligibility rules, budgets, and planning worksheets.